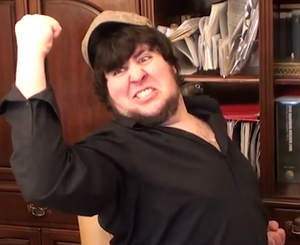 Jon Jafari aka JonTron is a friend of the Continue? crew and has made a few guest appearances of the show. Jon and the Continue crew both used to be a part of Normal Boots until its dissolution.
Nicknames and aliases
Edit
Owing to his near-continual flight from law enforcement officials, Jon has gone by many aliases, pseudonyms and nicknames in the past. These include:
Jon
JonTron
John
JohnTrhon
Jon "Hot Hands" Jafari
Los Tortuga
Johannes Van Der Langer
Professor Wilhelm Wiggle-Butt
Spiro T. Agnew
Jon "Hott Hands" Jafari
Jon "MONGO" Jafari
() (Pronounced "parentheses", but he used to write it that way on his checks in order to "beat the system at its own game and live off the grid")
George Harrison
Ad blocker interference detected!
Wikia is a free-to-use site that makes money from advertising. We have a modified experience for viewers using ad blockers

Wikia is not accessible if you've made further modifications. Remove the custom ad blocker rule(s) and the page will load as expected.